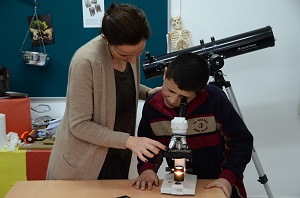 In our English science courses, the Cambridge Primary Science curriculum is used.
English Science lessons are taught starting from the 3rd grade in our school. In the 3rd grades, there is one science lesson per week and in the 4th and 5th grades, there are two lessons per week.
During English Science lessons, our children are supported in both science and the English language. Our English Science lessons are taught using interactive teaching techniques which enable students to enjoy and attend to the lessons more.
Using interactive teaching techniques help our students to develop their vocabulary as well as raising awareness towards the environment they live in.