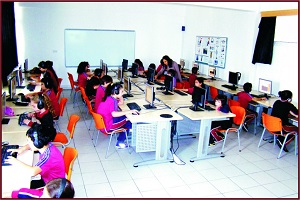 Technology is an integral part of education at the Near East Primary School.
We prepare our children for the future, with a solid foundation in the effective use of technology. Our goal is to develop individuals to be computer literate at the international level so that they understand the impact of technology on our daily lives.  By following the Cambridge ICT Starters Curriculum, learners will develop key ICT skills in a range of applications. These include computer coding, e-security, word processing, digital graphics, spreadsheet, e-mail, presentation, video / animation and internet. Our goal is to prepare our final year students for Cambridge ICT Starters examinations that are internationally accepted. Our computer education programme starts at Preschool from the age of 3, and continues through primary school until Grade 5.
At the Pre-school, our computer lessons are once a week for the 3, 4 and 5 year olds. We teach them to understand why and how we use computers. For example, children learn how to turn the computer on and off, and how to use the keyboard and the mouse. We work in line with the Preschool curriculum and concepts taught in different subject areas.
At Near East Primary School, all students in Grades 1 to 5 attend one computer lesson per week.  The aim of this course is to provide students with information on the different uses of the computer, as well as recognising its main functions. Students also learn to access and research information on the "Internet" and to prepare projects using the "Office" programmes in a safe environment.
At both the Near East Preschool and Primary School, we include iPad education and guide our students to use technology correctly and effectively. This iPad-supported training is provided once a week. In addition to the applications that will develop our children and enable them to learn while having fun, we also support our coding lessons using the iPad. With this training, our students understand basic computer programming logic and develop their problem solving skills. We also use Cubetto, an educational robot set designed to teach coding logic to our children aged 3 and over.
There are five computer laboratories at Near East Primary School and one in the preschool. Each laboratory is equipped with computers enough for one per student. Our computer lessons are taught using a projector. There is also a smart board in our laboratories and we prepare our lesson materials and make them more engaging by using SMART Notebook Software. In addition to this, the maintenance and repair of the computers in our laboratories and the programmes that we use are updated annually. Our curriculum is constantly evaluated and developed according to the latest innovations. All this is carried out by our expert training staff.