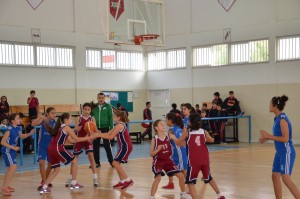 Dear students and parents,
Our vision as the Physical Education Department: While teaching our children the basic techniques and skills of the sports' branches, we contribute to their physical development using scientific methods. Children who have the opportunity to develop their body, soul and mind are able to build their self-confident and their personalities, have peace with their surroundings, know how to play and compete, appreciate winning, accept losing and stand up to cheating and injustice.
In our Physical Education and Sports lessons, while following the curriculum of the Ministry of National Education and Sports, it is also necessary for us to apply the Euro-Fit Ability Test on a yearly basis. This is an internationally recognised test which tracks the physical development levels of our children from the 2nd grade through to the 5th and identifies which sport is most suitable for them. The key parameters measured are speed, strength, flexibility, endurance etc. After having measured the motor development characteristics of each child, the data is then processed by computer and the results are used accordingly.
Euro-Fit tests also contribute greatly to the formation of our school teams. After the data of the children has been evaluated, the children are directed to the subdivisions of the related branches. In the subdivision groups, performance-oriented studies are carried out with the guidance of expert coaches and teachers in their fields.
While elite athletes are being trained for the subdivisions of the related branches in which the Near East Junior College aims to participate, the children's technical and performance development is assessed and, at certain stages, eliminations are made.
Following these eliminations, which continue until the 4th grade, the remaining children are placed in the school teams where they represent our school in races and competitions. At the same time, those who are chosen for the school teams also receive support from the Near East University Club Teams.
Near East Junior College competes in Football, Futsal, Basketball, Handball, Badminton, Swimming, Table Tennis, Tennis and Athletic competitions, and also partakes annually in road running on 15th November and 27th December.
With the idea that games and sport are of great importance in the development of a child, our school reflects this in the facilities we provide.
These facilities include:
2 multi-purpose indoor gyms,
2 gymnastic halls,
3 multi-purpose games halls,
2 studio-type halls,
Rhythmic gymnastics hall,
Multi-purpose dance hall,
Outdoor playgrounds,
Table tennis hall,
Athletics training area with a synthetic track surface,
Outdoor basketball grounds,
Outdoor football grounds,
Outdoor volleyball court,
An indoor swimming pool.