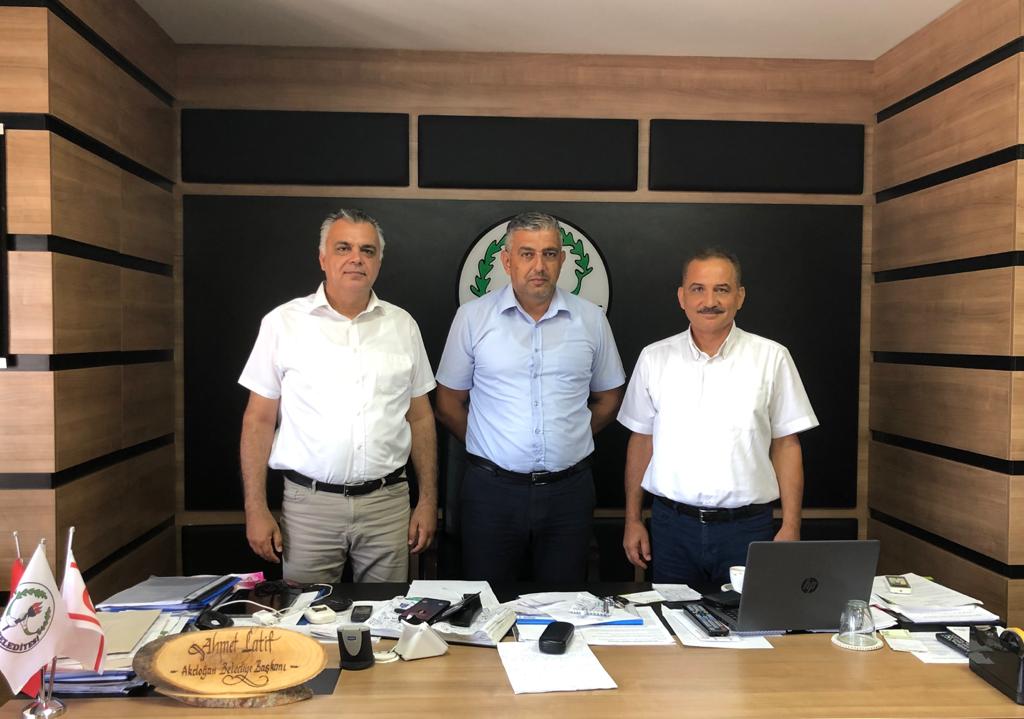 Near East Junior College and Near East College authorities visited the Paşaköy Mayor, Habil Tülücü, and provided him information on the Near East Preschool which is to commence its educational activities on 1st September 2020 in Yeniboğaziçi-Famagusta.
It was stated that during the visit, Vice Rector of Near East University, Assoc Prof Dr Murat Tüzünkan accompanied Headmaster of Near East College Asım İdris and Headmaster of Near East Junior College Ertan Aligüllü. Furthermore, it was pointed out that Paşaköy Mayor Habil Tülücü was briefed on what educational activities will be held by the Near East College starting from the date the school commences its educational activities for the academic term of 2020-2021; including the expected contributions of the school to the region. They also informed him on the vision and mission of the school.
Assoc. Prof. Dr. Tüzünkan: "We are determined to offer a school that has a global reputation for our community"
During the visit, Vice Rector of Near East University Assoc Prof Dr Murat Tüzünkan made a speech and asserted that they as the Near East University were determined to raise self-confident individuals for the future who can take action. He also provided details regarding the vision and mission of the Near East College.
Assoc Prof Dr Murat Tüzünkan said: "The Near East College was founded in 1993 in order to provide our students with world-class education and to offer our community a globally respected school. After Lekfoşa, we are extremely proud and happy as we are getting ready to offer the environment that provides the best preparation for our students' future lives in Yeniboğaziçi and Famagusta regions."
In addition to the above, Assoc Prof Dr Murat Tüzünkan further stated that they are taking firm steps forward with the basic goal of educating world citizens who can think holistically starting from foundation education. He ended his words by re-stating how excited they were to meet with new students in the Famagusta region.
Asım İdris: "We want all members of the society to have equal opportunities to benefit from education services...."
On the other hand, Headmaster of Near East College Asım İdris expressed that they set out to raise each student as young people who write their own stories by equipping them with the best education. Furthermore, Asım İdris provided information on the education system to be implemented at the Near East College, which is a model Cambridge International School. Moreover, he stated that the children of the region will meet with a well-designed education on a fully equipped campus which includes technological, social, sportive and cultural facilities and infrastructure. He said:
"We will train our students with an experienced and dynamic team of teachers who transfer knowledge with modern techniques by blending local and international educational values. As Near East College, we will educate our children with our equipped and technological infrastructure and strong foreign language education. We aim to raise our students as individuals with high awareness from preschool education to university in an environment where they will demonstrate their artistic activities and students' sportive abilities within the society. We will raise individuals who fulfill their dreams by applying comprehensive IGCSE and GCE curricula of exam platforms such as Pearson Edexcel and Cambridge International used in the British Education System, National Education programs and Higher Education Institution Exams (YKS)."
Ertan Aligüllü: "Starting from Preschool, we aim to equip our students with the skills which will make our students successful."
Headmaster of Near East Junior College Ertan Aligüllü said: "Our bilingual education, which is supported in 7 basic areas in Pre-School, is taught using many activities in both Turkish and English. Our curriculum was designed within the framework of Cambridge Global English, focusing on the development of listening, speaking, reading and writing skills and to train successful students who can cope with the challenges of the 21st century. The Cambridge International Primary School curriculum focuses on the development of the English language and the transfer of knowledge and skills, focusing on Global English, English Mathematics, and English Science and Computer courses. We equip our students with a strong foundation in French as a foreign language as well as English. In addition to academic education, we will provide our students to the opportunity to acquire high skills that encourage children's intellectual, social, physical and moral development, as well as joining wider communities in their future educational lives."
Habil Tülücü: "It is pleasing that the children of this region will be among the achievements and make their marks with the firsts"
In his speech, Paşaköy Mayor Habil Tülücü stated that he was very pleased and happy that the Near East College, which educates its students as individuals who are ready to fulfil their higher education requirements both at home and abroad, with its national and international programs, is very happy and happy. Furthermore, Tülücü stated that the Near East College students achieved great success in terms of academic, social and sports, and he was very proud that the region's children will be among the firsts to achieve firsts. He said:
"The Near East College will bring prestige to its region with the quality education it offers as well as providing socio-cultural development and create employment opportunities to the region. We will support all kinds of cooperation with Near East College, which has brought educational experiences with the children of this region."