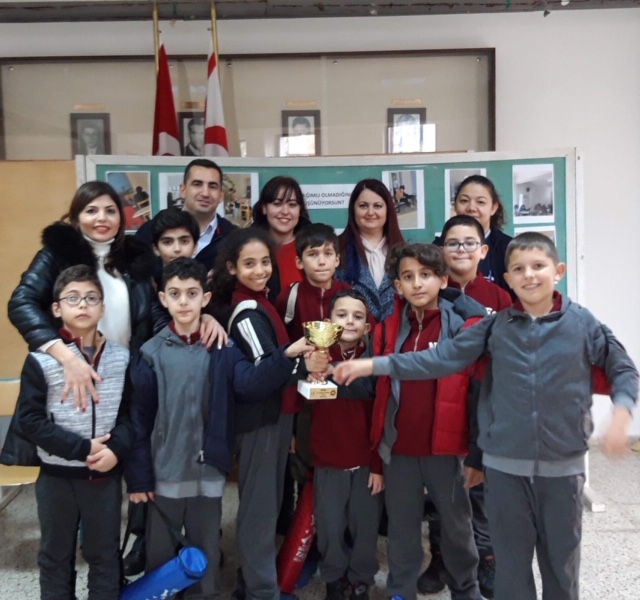 Organised by the Turkish Teachers` Union with the aim to familiarise children with mind and intelligence games at an early age and to strengthen the position of chess in the education system, a chess tournament was held among primary schools. As a result of the tournament, Near East Junior College became the champion.
According to the press release issued by the Directorate of Press and Public of Northern Cyprus, the 3rd Chess Tournament was held due to the 50th anniversary of the Turkish Cypriot Teachers' Union and the 60th anniversary of the Turkish Cypriot Teachers` Cooperative among 19 primary schools, a total of 131 students and 28 teachers at the Atatürk Teachers` Academy.
In the Chess tournament, where teachers and students were on the same team, and there was a high competition among the competitors, Near East College became the champion, Alasya Primary School came the first runner up and Karakol Primary School became the second runner up.
Each competing student had to play 5 games and the students with the highest points at the end of 5 games were ranked. It was announced that once the player's own moves and the opponent's moves were taken into consideration, Near East Junior College students were found successful and thus, they became the champion.
The Students Patiently Revealed Their Intelligence …
Head of Near East Schools Primary Education, Ertan Aligüllü, stated that the Chess Tournament brings together a large number of students from different schools in an environment of sharing, friendship and brotherhood and added that the Near East Junior College students achieved the championship with their patience and correct moves during the tournament. In this regard, Ertan Aligüllü emphasised how proud they were of their students.
Furthermore, Ertan Aligüllü pointed out the importance of guiding children to mental and intelligence games such as chess from a young age, since they enable students to develop mentally while also having fun.
Aligüllü said: "It is known that chess has a positive effect on children's mental, intellectual, cognitive and emotional development starting from early ages, and it improves creativity, reading, intelligence, reasoning and thinking skills of players. In addition, chess develops the child's imagination and self-confidence. We must take care of our children's abilities and care about their future".