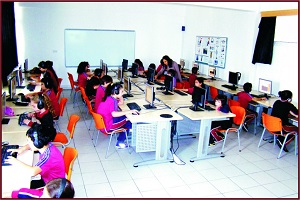 Technology is an indispensable part of the Near East Junior College education
Being well aware that children are curious about technology around them, Near East Junior College adopts technology as an indispensable part of education. Within this scope, we implement courses to spark our children's interest in computer literacy and information technologies and prepare them for the future with a solid foundation in coding, computer, and related technology. In order to enable the students to utilize computers and the related technology efficiently throughout their lives, we promote computer literacy through computer coding, e-security, word processing, digital graphics, spreadsheets, e-mail, presentations, and video/animation, and internet apps. Such apps are supported with Cambridge Assessment International Education programs. Our goal is to prepare our senior students for the internationally recognized Cambridge ICT Starters exams. We start our computer education program in pre-school 3-4-5 age groups and continue it until the end of the fifth grade of the Junior College.
As Near East Junior College, we aim to help our children develop their computer literacy and ICT competencies in a range of applications including the usage areas of the computer, the main units and functions of the computer, and the internet and web authoring. To this end, we ensure a safe environment where they can access information via the internet and prepare projects by using "Office" programs.
As Near East Junior College, we include the use of tablets in our education and guide our students to use technology correctly and effectively. In addition to the applications that will affect the development of our children and enable them to learn while having fun, we implement our coding lesson with the aid of tablets. In order to introduce children aged 3 and over to computational thinking and coding logic, we also use the Cubetto robot set in our lessons.
There are a total of seven computer laboratories, five of which are in the body of the Near East Junior College and two of which are in the body of the Near East Preschool. Our laboratories are equipped so as to allow each student to use one computer. In order to ensure more effective and entertaining learning and get our lesson objectives across, we implement our computer lessons by using a projector. Besides, smart boards are also available in our labs. Using Smart Notebook, which is software for supplement use with Smart Board, helps create interactive classes, improve student learning, enhance literacy, boost attentiveness, and provide better instructional materials. In this context, we prepare our instructional materials and make our lessons more fun by using Smart Notebook software. In addition, the maintenance and repair of the computers in our laboratory, the updating of the programs that we use every year and the continuous improvement and enhancement of our curriculum in line with the innovations are carried out by our experienced and expert training staff.